Brigade Valencia Location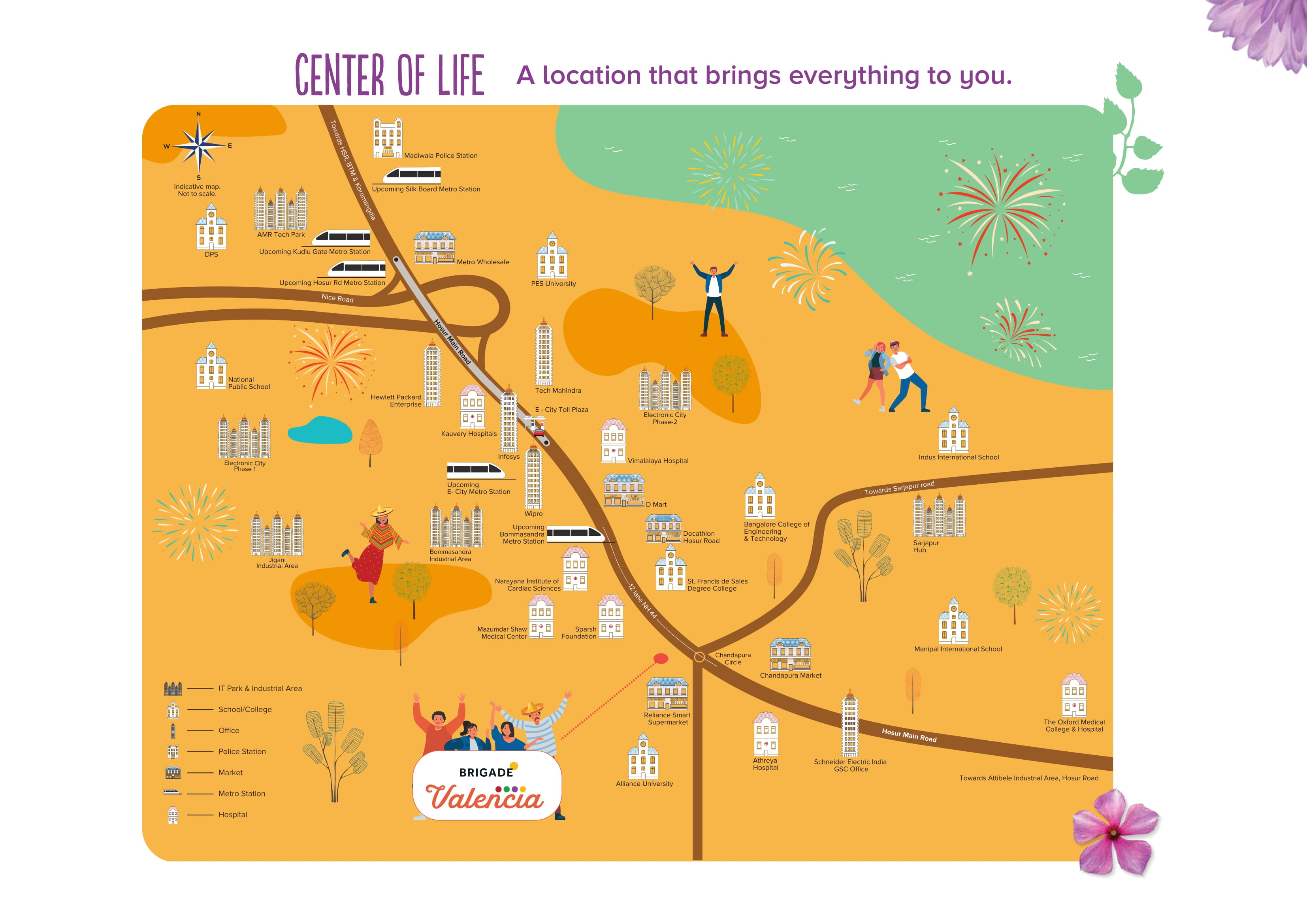 Bangalore has progressed from the status of a retirement city to the Silicon Valley of India. This vibrant metropolis, one of the two fastest developing in India today, is experiencing a real estate boom. Brigade Valencia, a premier real estate development project, is being launched in this modern and cosmopolitan center of the country.

The project is situated in the tranquil surroundings of Hosur Road, now a premier real estate destination in the city. This opulent real estate development will include well-designed apartment units that will be ideal for modern, urban residents. These residences are designed to meet the discerning buyer's every need, with a seamless blend of practicality and aesthetic elements.

The Brigade Group, one of the most trusted names in the country, is the developer of this sophisticated residential project. This group strives to achieve this in every development by having a thorough understanding of the needs and desires of home buyers. Brigade Valencia exemplifies the Brigade Group's commitment to innovation and the highest planning and construction standards.

This residential real estate development is a prestigious enclave of opulent, spacious apartment units set in breathtaking surroundings. Through several strategically placed large windows and balconies, these luxurious residences are flooded with natural light and ventilation in every corner. The units are painstakingly planned and crafted with the ultimate goal of providing the residents with the ultimate living experience.

Brigade Valencia is set in beautiful surroundings and is close to a variety of social infrastructure amenities such as schools, hospitals, and shopping malls. The neighborhood also has a solid physical infrastructure that has kept up with the area's real estate development. The development is situated so that it is easily accessible from the city while remaining sufficiently removed from its hustle and bustle.
Hosur Road and Connectivity:
Hosur Road is a four to eight-lane highway that runs parallel to National Highway 7. Richmond Road begins at the Vellara Junction and winds through Koramangala and Silk Board. It reaches the border of Attibele in Tamil Nadu's Krishnagiri district. The 'townlets' of Bommanahalli, Hebbagodi, Singasandra, Chandapura, and Attibele, which were once considered outlying suburbs, now fall within the Hosur Road development belt, bringing development, movement, and progress to these areas.

Hosur Road is close to Baiyappanahalli, the terminus of the Namma Metro east-west corridor, allowing quick access to vital areas such as Indira Nagar and M.G. Road. Hosur Road has excellent connectivity and accessibility, making it a desirable residential location. Bangalore City Junction, the city's central railway station, is 9 kilometres away and can be reached by auto rickshaw or taxi.

Some of the necessary places in and around Brigade Valencia address are as follows:

Educational Institutions:
SFS Public School
Stanley First Earl Baldwin of Bewdley Boys' High School
Bluebell Public School
GVS English Scho

Healthcare Units:
Sparsh Hospital
Live One Hundred Hospital
Narayana Institute of Cardiac Sciences
Health City

Entertainment Hubs:
PVR Cinemas Forum Mall
Gopalan Cinemas Innovation Mall
Galaxy Paradise Theatre
Bangalore Central Mall
One MG Road Mall
Forum Mall
Total Mall
Garuda Shopping Mall


Real Estate Potential in Hosur Road:
This area has grown horizontally and linearly as a result of the city's current IT boom and government efforts to improve civic infrastructure. The construction of the elevated tollway, as well as several service roads and by-lanes along the highway, has made this area easily accessible, attracting a large number of people.

Given the potential for future growth in this Bengaluru neighbourhood, purchasing a home may be a wise investment. There is a good selection of housing options here, and once the metro line is completed, asset prices will likely appear to have increased more steadily. Traffic congestion is frequently a recurring issue during peak hours, but with the launch of Namma Metro, this will no longer be an issue. Potential home buyers will be pleased with the advancement of infrastructure development, even if connectivity and affordable access to social infrastructure are the main selling points. The location of Brigade Valencia is one of the key factors attracting investors to potential acquisitions.